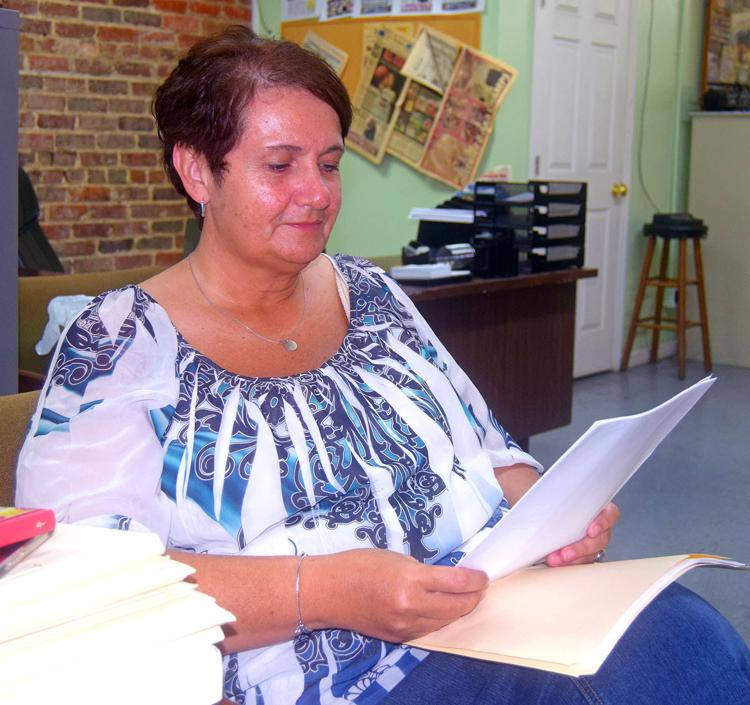 NEWPORT—A total of 180 students graduated from Cocke County and Cosby High Schools in May 2019 with a Work Ethic Diploma, the highest number of graduates achieving this goal in Cocke, Grainger, Greene, Greeneville, Hamblen, Hawkins, and Sevier County school systems.
Begun in 2015, the Work Ethic Diploma came about after local business and education leaders from Hamblen, Grainger, and Hawkins Counties began to work together to seek ways for students to graduate from high school more "work ready" and to be able to put their knowledge into practice.
"This meeting was a component of the Lakeway Region's LEAP (Labor Education Alignment Program) grant," explained Chris Edmonds, LEAP coordinator at Tennessee College of Applied Technology in Morristown.
Edmonds said, "At that meeting, it was determined that attendance, punctuality, and being drug-free were common trouble areas in the young adult workforce."
Cocke County teacher Love Henderson, who oversees the program locally, said, "Cocke County's participation in the program began in 2016. That year 14 students, 10 from CCHS and 4 from Cosby, completed the requirements. That number jumped to 84 the second year."
Henderson works with Law Loving, describing him as the "go-to person" with Niswonger Foundation, a major supporter of the Work Ethic Diploma. "I also work with Megan Loving, CCHS guidance counselor, and Shawna Murrell, Cosby High vice-principal," she said.
Henderson said in the beginning, Gail Burchette, then Ben W. Hooper Vocational School Director, "sent out information to inform us of what was going to happen (with the Work Ethic Diploma) the following year."
Emphasizing that the Work Ethic Diploma is "not just for vocational students, but for those in the academic program, too," Henderson outlined ways in which a student can earn a Work Ethic Diploma.
"A student must earn a minimum of 20 points and a regular high school diploma in order to qualify for a Work Ethic Diploma," Henderson said.
"There are 14 standards by which a student can earn these points," she added. "These include attendance, absence, tardiness, discipline, overall grade-point average, drug free, CTE course work, CTE competition, TN Promise, Dual Enrollment/Credit, Industry Certification, Enrollment in Post-Secondary, Career Readiness Certificate, and Industry Awareness."
Nearly 40 area industries, including three in Cocke County, guarantee a student earning a Work Ethic Diploma a job interview. These include American Appliance Products, Inc., Phoenix Closures, Inc., and Eastern Plating, all in Cocke County, as well as Ball in Chestnut Hill.
Henderson also said, "Students earning a Work Ethic Diploma get to wear a special stole at graduation. A special seal on their diploma shows the college/industry they completed this goal."
Part of Henderson's work also includes traveling between the two schools, meeting with the students. In the beginning, Henderson worked with Burchette, Patrick O'Neil, guidance counselors at both high schools, and Casey Kelley. "I met with all the seniors in September of 2016 to start the program here."
Henderson, a former CLB member, said she also goes to the CLB and the Newport City Council once a year "to update them" on the program.
Edmonds, who has been an integral part of the program's initiation and success from its inception, said, "It has been a career highlight for me to be a part of developing and implementing an initiative that has meaning for graduating seniors and benefit for our employers. It is a unique experience, especially to watch the program grow from three counties to six counties to 13 counties in East Tennessee. Now it is to be carried statewide with a new grant which was recently awarded to the Niswonger Foundation.
"The Niswonger Foundation has been a major supporter of the Work Ethic Diploma. They have made a substantial investment in a website dedicated to promoting and tracking student progress toward earning the required points to receive the distinction. We owe the Niswonger Foundation much gratitude for what they do to better our communities through educational opportunities and programs."