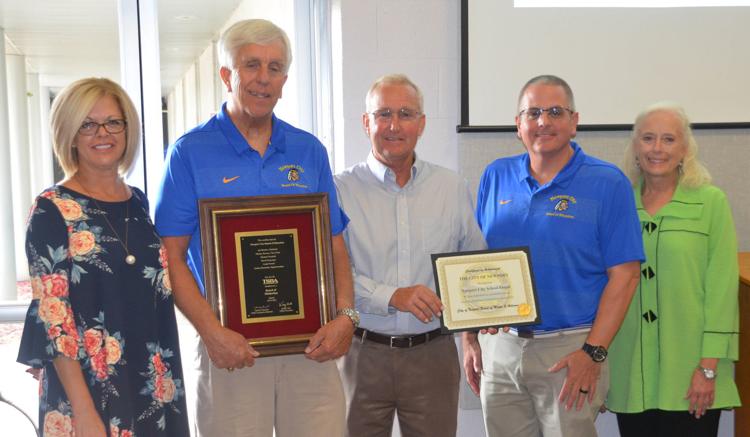 NEWPORT—In a somewhat lengthy meeting Monday, Aug. 19, members of the Newport City Board of Education aired their views about several topics.
With all members present, the group first turned their attention to the topic of differentiated pay for certain teachers during the 2019-2020 school year.
Such pay, in the past, has been used to pay teachers for work in certain after-school programs, as well as for teaching classes out of their subject areas.
Board member Linda Powell questioned the use of such money to pay a teacher for ESL (English as a Second Language) teaching in an after-school program and for paying a music teacher for teaching first grade physical education. "To me, they are not the same," Powell said.
Director of Schools Sandra Burchette pointed out that, unlike the past, ESL "now has to be provided during the school day."
Newport Grammar School Principal Michael Short added later, "Next year we'll have to have certified PE teachers for all grade levels anyway."
After further discussion, board member Mickey Powers noted, "There are too many planning periods. In the future, I'd like to see the plan for differentiated pay earlier to give the board time to look at it before we vote on it."
Board chair Jan Brooks echoed Powers' comments, stating, "I'd like to see it at the June meeting. That way we'll have the summer to review and study your proposal."
In turn, Burchette then asked board members to provide her with any "ideas" regarding the differentiated pay by May of 2020.
Board members also addressed the topic of what, if anything, to do for teachers whose students' test scores are in the Top 5 percent of the state.
Last year, according to Burchette, teachers with "5's" (the highest possible score) received a $1,000 bonus while those with "4's" earned an additional $800.
The year before that, Burchette added, no such rewards were given.
Board member David Perryman voiced concern about such practices, noting, "I fear this will promote the practice of teaching to the test. I do, however, believe there should be some sort of reward to hard work."
When questioned directly, Burchette stated, "I do commend teachers for their good work. I think it's great to let them know how we appreciate their hard work, but sometimes such practices may hurt the morale of teachers whose students don't do as well on the tests."
A third topic of discussion for the evening centered around the school's annual Beta Club trip.
On Monday's agenda, the board was asked to approve the club's 2020 trip to Disney and Atlanta. However, Brooks led a discussion as to why certain earlier destinations, such as Boston and New York, have been replaced.
Amy Burchette, Federal Programs Supervisor, explained that Boston had been dropped as a destination several years ago because of the added cost of having to have a second bus driver.
Board members expressed interest in such destinations as Charleston, Savannah, Williamsburg, and Chicago and agreed to postpone any action on the club's request until their next meeting.
During the recent Newport City Council meeting board members were recognized for receiving the 2019 Board of Distinction honor from the Tennessee School Boards Association.
Alderwoman Louanna Ottinger presented the board with their certificate of recognition.
The board's September meeting will be held Tuesday, Sept. 17. Board members approved changing the regular meeting date, Monday, Sept. 16, because of a conflict with the Fall District Meeting.