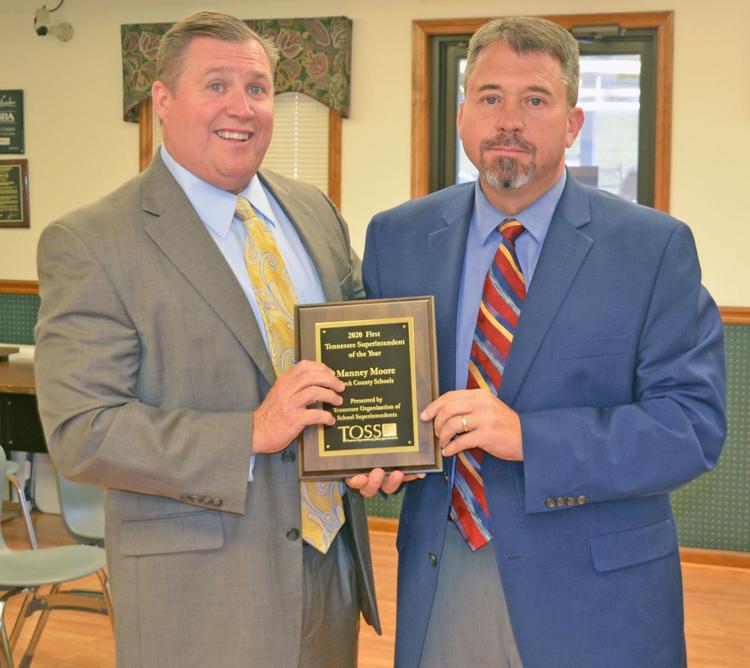 NEWPORT—Cocke County Director of Schools Manney Moore was named the 2020 Superintendent of the Year in the First District by the Tennessee Organization of School Superintendents (TOSS).
Dale Lynch, TOSS Executive Director, presented a plaque to Moore during the Cocke County Board of Education meeting Thursday evening.
"Manney is a leader among leaders," Lynch stated. "I don't think there is any better or more distinguished honor than to be recognized by your peers."
Moore, who just completed his 11th year, was nominated by his peers in the First District, which is made up of 17 other superintendents in upper East Tennessee.
"I also know as being a former superintendent, he (Moore) certaintely does not do that by himself. It takes a strong commitment from a board of education," Lynch said. "We want to thank you as board members for continuing to work and serve the children of Cocke County and also your collaboration and to work with your superintendent."
This is the first time that a Cocke County Director of Schools has received this honor.
"I am really appreciative," Moore said. "Like Dale mentioned, I couldn't do it without our board members, the people that work here, all of our teachers and staff members and stakeholders through the county."
In other news, board members approved a number of requests during Thursday's meeting.
The first request was for Title V programs to use allocated Title V funds to renew online subscription with Pearson AimsWeb Plus. The total cost was $16,495.
Members approved a request from Special Education to purchase 20 HP Chromebooks for a total cost of $4,935. In addition Special Education also requested to EdPlan Connect Easy IEP for $2,297 and to purchase from Public Consulting Group add-on services for an additional $6,500, all of which were approved as well.
Board members voted to meet again on Tuesday, June 25.