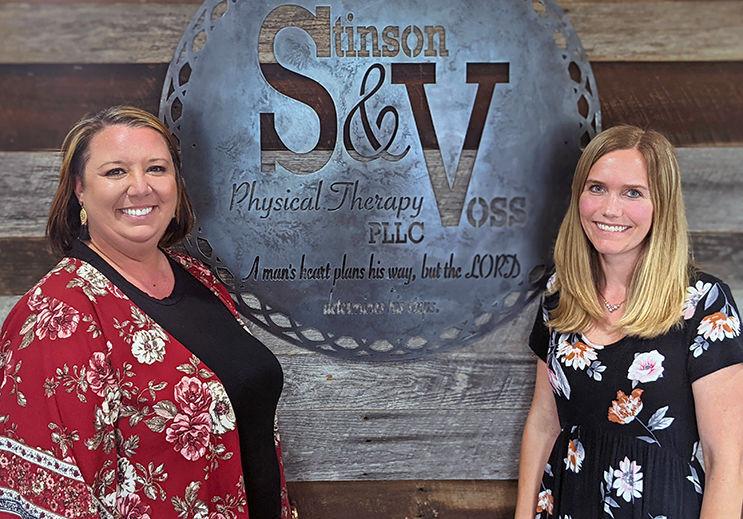 NEWPORT—Proverbs 16:9 reads "A man's heart plans his way, but the Lord determines his steps."
This passage holds special meaning for Drs. Megan Stinson and Kaitlyn Voss. With the Lord guiding the way, the doctors have come together to open Stinson and Voss Physical Therapy in Newport.
Both may look familiar to the community as they worked at VIP Therapy for many years. The idea of opening their own practice had floated around the minds of both women, but the timing never seemed right.
They say that God stepped in to guide them to the place they needed to be.
"We had talked about a partnership for years, but things never really seemed right until a few months ago," Stinson said.
"It was like God saying it is finally time and He laid everything out for us. God put us here for a reason, and you can see his handprint on everything."
In the matter of a few short months the pair have turned a vacant building on West Highway 25/70 into an office featuring everything they need to promote healing for their patients.
Stinson said this experience has helped strengthen many aspects of their lives including their families.
"Seeing God place all these things in motion has been amazing and faith building. Both of us said this is the time for us to do this because we didn't want to miss this blessing.
"It has brought our families closer and strengthened our individual marriages. It's amazing watching God work in our lives because we know He will provide for us."
Running their own practice gives Stinson and Voss more time to focus on each patient's individual needs. Voss said it is important to listen to their needs while developing a treatment plan that features outside the box ideas.
"I love the way things are working so far and the amount of time we get to spend with each of our clients," Voss said.
"People come here looking for specialized care geared towards their specific problems. We love patients that are looking to take their care into their own hands. We're looking for individuals who have gone other places and their results haven't lasted. Not all therapy is the same, so we would love to help those individuals."
The doctors say their work is extremely rewarding, and allows them to set a strong example for their children. They hope their children develop a work ethic that is centered on helping others.
"We treat every patient that comes in like family," Stinson said.
"Kaitlyn and I have our children here which helps us develop their work ethic and social skills. It shows them what we do for a living, and hopefully it teaches them about faith and helping others."
Stinson and Voss offer cash based plans that provide patients with a more affordable option. Insurance companies often times limit visits and services that are covered under their plans.
The cash option allows an individual to pursue the one on one care they deserve. They provide patients with the tools they need to manage their recovery, which provides better outcomes and continuity of care.
The transparency in price has led more patients to seek care from Stinson and Voss. They don't see other physical therapy providers in the area as competition, but as allies working to better the community.
"Several others are expanding and opening in the area, but we didn't hesitate in opening our office," Stinson said.
"We are not competitors, we only offer something different. We all play a part in helping the community and making Cocke County better as a whole."
Stinson and Voss offer a wide array of services, many of which go beyond simple rehabilitation from injuries.
The doctors can develop specific plans to promote overall wellness and an improved quality of life.
They say "both of us are here because we love what we do and it's what God called us to do. He provides the healing but uses us as vessels."
To find out more about Drs. Stinson and Voss, visit their website at https://www.stinsonandvosspt.com.