Fourth Judicial District Circuit Judges announce candidacy for re-election in 2022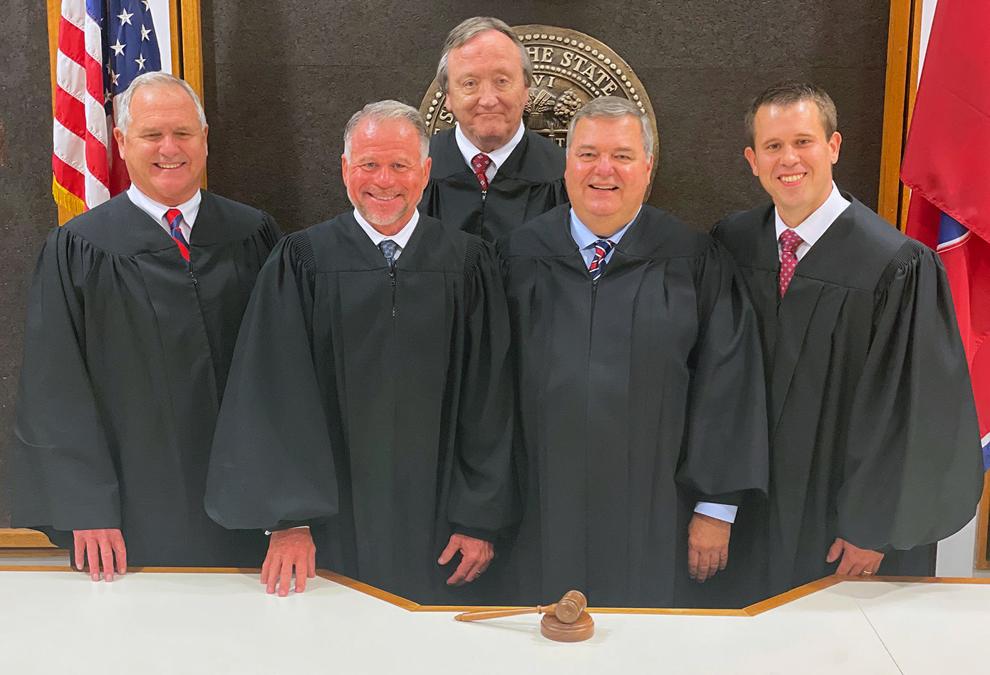 COCKE COUNTY—Fourth Judicial District Circuit Judges Carter Moore, Jim Gass, Rex Henry Ogle, and Duane Slone jointly announce their candidacy for re-election in 2022.
Chancellor Telford Forgety announces his intention to retire at the end of the current term. The judges serve in Cocke, Grainger, Jefferson and Sevier Counties. Forgety also serves Blount County. All are Republicans, and the ones seeking re-election will be running in the May 2022 Republican Primary.
In a joint statement, the judges state that they are proud to serve the people of the four counties, and they each wholeheartedly endorse the re-election of their fellow judges.
As a group, they ask friends and constituents to cast their vote for each of these office holders. The judges believe it is vital to our communities that we maintain an effective court system open to the public during this pandemic.
They, along with the Court Clerks and Court staffs, have continued to work to guarantee that our courts are open and functioning, insuring that our citizens have access to fair and impartial proceedings.
As a group, the judges want constituents to know it is an honor to serve the people of the district, and that they will each continue to work daily to maintain your trust.
Judge Carter Moore received a Bachelor of Arts Degree from East Tennessee State University in 2004, graduating with highest honors. In 2008, he graduated from the University of Tennessee Law School, Magna Cum Laude. After graduation, Judge Moore operated his own private practice in Newport, as well as serving as the Cocke County Attorney from 2011 to 2017.
In 2017, Governor Bill Haslam appointed Judge Moore to fill the post of Circuit Court Judge, Part I, after the retirement of Ben W. Hooper, II. Judge Moore subsequently won a contested election in 2018 to serve the remainder of the term.
Judge Moore hears both civil and criminal matters in the Fourth Judicial District. In addition to his regular duties, Judge Moore presides along with Judge O. Duane Slone, over the Fourth Judicial District's Drug Recovery Court, serving citizens from Cocke, Grainger, Jefferson, and Sevier Counties.
Since taking the bench, Judge Moore has also established a Tennessee Recovery Oriented Compliance Strategy (TN-ROCS) docket in his court as a resource to address treatment needs of defendants who may not qualify for inclusion in recovery court.
Further, Judge Moore served as the Presiding Judge for the Fourth Judicial District for the 2020-2021 term. He resides in Cosby with his wife, Renee, an educator, and their three children. He is a member of the Kiwanis Club of Newport and previously served on the club's Board of Directors.
Judge Moore enjoys spending his free time outdoors with family and friends, as well as playing Bluegrass music with his band, Mountain Edge.
Judge Jim Gass was appointed Circuit Judge in 2017 and elected in 2018. He presently serves on both the Tennessee Judicial Conference and Tennessee Trial Judges Executive Committee and is the Presiding Judge for the Fourth Judicial District for 2021 to 2022.
He is a 7th generation resident of this judicial district, is a graduate of Samford University, and holds a law degree from Cumberland School of Law at Samford University.
Before taking office, he was a partner at Ogle, Gass & Richardson in Sevierville, where he served as City Attorney of Pigeon Forge and the Town of Dandridge. Prior to that, he served from 1988 to 1998 as Assistant District Attorney in the office of District Attorney Al Schmutzer.
He is a Fellow of the Tennessee Bar Foundation and a past president of the Sevier County Bar Association. He and his wife, Lauren, have two adult sons. Judge Rex Henry Ogle is a Sevierville native who graduated with honors from the University of Tennessee and received a major in Political Science.
He received his Juris Doctor degree from the Memphis State University School of Law in 1979. He practiced as an attorney in Sevierville until elected Circuit Judge. He served as President of the Tennessee Judicial Conference in 2001-2002, and has served multiple terms as Presiding Judge of the 4th Judicial District.
He was founder and former president of the 4th Judicial District Task Force Against Domestic Violence, and in 1997 was awarded the "Judge Jane Wheatcraft Award" by the Tennessee Task Force Against Domestic Violence for his outstanding service within the judicial system.
He is a Fellow of the Tennessee Bar Foundation. A lifelong Republican, he has also served as Chairman of the Sevier County Republican Party. He is married to Judge Norma McGee Ogle, and they have one son, Daniel Ogle.
Judge Duane Slone, a former drug trafficking prosecutor, was first elected to the Fourth Judicial District Circuit Court in 1998 and in 2009 he co-founded his judicial district's Drug Recovery Court.
He is recognized nationally as an effective collaborator and innovator for his efforts to address the Opioid Driven Addiction Crisis. Currently, Judge Slone serves as Chairman of the eight State Appalachian Midwest Regional Judicial Opioid Initiative, the Substance Misuse and Addiction Resources for Tennessee "SMART" Justice Network, and the Tennessee Judicial Conference Problem Solving Court Committee.
He is a steering committee member of the National Rural Justice Collaborative and "SMART" Policy Network. Additionally, Judge Slone is a member of the National Institute of Drug Addiction JCOIN Practitioner Advisory Board, the SAMHSA Advisory Committee for Women's Services, the Advisory Board of the National Rx and Heroin Summit and the White House ONDCP National SUD Strategic Advisory Panel Criminal Justice Workgroup.
Judge Slone has been honored as the recipient of many state and national awards for his innovative work addressing the Opioid Crisis including the 2019 National Center for State Courts William H. Rehnquist Judicial Excellence Award, the nation's highest state court judicial honor in recognition of this work.
Chancellor Forgety, 72, says he has enjoyed his 46-year legal career, and particularly thanks the people of his district for allowing him to serve them as Chancellor for the past twenty-four years. His wife, Vickie, retired after the birth of their first grandchild four years ago, and he has looked forward to spending more time with her, their children and grandchildren.
He says that it has been the greatest honor and privilege of his life to serve as Chancellor, and that in retirement he will continue to be involved in and serve his community.